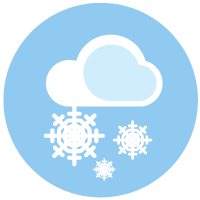 As a winter sports resort, Mallnitz not only offers the possibility of alpine and cross-country skiing, but also hiking with showshoes through the snow-covered landscape, a romantic sleigh ride through Mallnitz or simply relaxing in the Tauernbad Spa.
A special experience is surely a toboggan ride where you are taken up a 4 kilometer long track with a small bus and can then sled down the track (well-lit in the evening). A hot drink in the hut is a wonderful ending to the adventure.

We invite our guests to a toboggan ride if you book a stay of more than 7-days in our house and the track is open for toboggan rides.
Mallnitz also offers ski tours off the beaten track. The Thermal Spa Bad Gastein, which can easily be reached by train within 15 minutes, also invites guests to relax and recuperate.